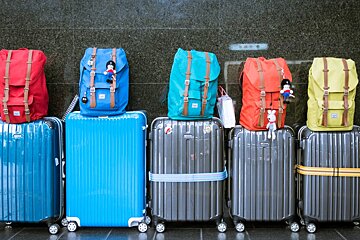 Travel insurance for Dordogne
Discover the top Dordogne travel insurance options
The ease of travel and the increasing popularity of short breaks, second homes abroad and low-cost airlines, has resulted in millions of us travelling to foreign destinations every year. Whilst most of us will generally travel incident free, it is important to consider the consequences of what happens when things don't quite go to plan.
Holiday time is a precious commodity these days with most people preferring to use their holiday time relaxing and recovering from the stresses and strains of everyday life. Few people would ever imagine that an idyllic holiday could be anything more than that, yet within that split second a simple trip or fall or a more serious medical emergency could result in holiday dreams (and bank balances) being completely shattered if adequate travel insurance has not been arranged before the trip begins.
Travel insurance is an important part of your holiday and its benefits should not be overlooked. Did you know insurance policies will generally cover events such as:
Financial recompense if your holiday is cancelled or curtailed due to circumstances out of your control
Repatriation to your home country
Medical emergencies
Loss or damage to your personal belongings (ie. money, passports etc)
Search and rescue costs
Third party liabilities
Lost or broken equipment
The insurance market is vast and the amount (and type) of insurance coverage you can receive varies from insurer to insurer. In searching for an appropriate cover that is suitable for your needs it is important to review all policy wordings (terms and conditions, exclusion and excess limits) to ensure that all eventualities you may come across on your holiday experience are covered.
Specialist travel insurance
There are many policy options available in the insurance market place that will suit most requirements. In selecting the cover that is right for you, you should not only consider the cost of the policy, but all eventualities that the policy will pay for in the event of having to make a claim. If you buy the wrong one you could end up spending a fortune on cover which, at the end of the day, is invalid and therefore useless. Travel insurance policy options include:
Your credit card company
Tour operator / Travel agents
Single, multi-trip and specialist insurance policies
Comparison website
Single, multi-trip or specialist insurance policies - Single, specialist or multi-trip cover, family, couple and group are all types of travel insurance cover. If you are a regular traveller, taking more than two or three trips a year – especially if one is a skiing holiday – then the benefits of an annual multi-travel policy that covers winter sports as well as all other travel trips, is more likely to work out cheaper than purchasing multiple single travel policies.
Covid travel insurance
In recent times the insurance companies have needed to move quickly to change their policies regarding cover for travellers who may need medical treatment and repatriation, or for those that need cover for cancellation or curtailment if diagnosed with Covid-19, both at home and on holiday. This would be particularly important for you if you are a high-risk traveller.
Not all companies cover for cancellations as a result of Coronavirus and for those that do it is important, with all of these policies, that you are not travelling against FCDO advice. This would mean that you aren't covered if you travel during a lockdown or to countries that do not feature on the FCDO exempt list. As travel rules continue to change insurers are doing their best to keep up to date, so you must check what you're covered for.
If you're on a package holiday, which includes the flights and accommodation, if there are any cancellations you should get a refund from the holiday company. If you booked flights independently and the flight is cancelled you should also get a refund, but different airlines have different policies on this, so check with the airline.
If you are placed in quarantine abroad you may be able to claim for out-of-pocket expenses, and many insurers will pay out for emergency medical and repatriation related to coronavirus - but, as ever, check with your insurer before you travel.
Tour-operator travel insurance
When booking a package holiday with a tour operator or travel agent, you may find that they try to sell you their own travel policy. This has historically been quite expensive however they have become more competitive in recent years. Some tour operators or travel agents will even offer annual cover but it is probably better to source your own insurance that is specific to your needs and your holiday plans.
Credit card travel insurance
If you have free travel insurance provided by your bank, check the finer details as you may find that you are covered by insurance with your credit card as long as you purchase a significant proportion of your holiday using your flexible friend. This can be particularly relevant when purchasing ski passes and/or ski equipment on your credit card. However, the cynics amongst us know that you get nothing for free, so if your credit card is offering you "free travel accident insurance" make sure you investigate all terms and conditions.
Comparison site travel insurance
There are now a multitude of insurance comparison websites that offer a range of great travel insurance policies; however, it is important to compare more than just the price. When deciding between policy options, you should start by considering:
Policy limits for medical expenses and lost baggage
The size of the excess (if any)
Which sports and other activities are covered – taking note of any exclusions, from the cover (some sports activities are not always automatically covered)
Personal accident cover limits
Missed departure through circumstances beyond your control
Travel delays (typically payable after 12 hours)
Personal liability (typically up to £2m for worldwide travel)
Legal expenses (up to £50,000)
Is there enough cover for your personal possession, and is there cover for your passport and cash
Will the cancellation limits cover the pre-paid costs of your holiday? If not you need to upgrade
Whether you can declare any pre-existing medical conditions, and ensure you are covered against any claims related to these
Cancellation/curtailment due to Covid-19 lockdown/diagnosis
Travel insurance exclusions
Travel policy exclusions are a bit of a minefield as every policy differs so it is vital that you read the policy terms and conditions thoroughly. Policies often come with a list of sports and activities that are not covered. These can include 'extreme' sports such as competitive mountain biking, off-piste skiing, rock climbing and paragliding.
Less extreme however is the exclusion of accidents which happen whilst under the influence of alcohol or drugs. Many policies exclude accidents whilst under the influence, so if you're on a winter break and soaking up the après ski on a mountain bar, or having a long boozy lunch before continuing the afternoon skiing be careful that you don't invalidate your insurance cover.
Hazardous activies & specialist insurance
If you're planning on undertaking some activities which may be deemed 'hazardous' then it is important to be aware that you may be required to purchased specialist policies in order to cover your 'extreme' sporting lifestyle.
You may not consider a skiing holiday, a mountain biking holiday or a leisurely trek in the Alps as particularly hazardous activity however you could find that in the event of a claim, your insurer points you to the small print of the policy which could potentially exclude these activities. Every policy is different. For example, we took a random sample of insurers and looked into their annual travel insurance cover (with winter sports option) here's what we found:
According to the FCO, 50% of all British travellers don't check the cover for activities on their travel insurance before partaking in an adventurous activity. Typical 'adventures' people were looking to do included cycling, trekking, mountaineering, canoeing, kayaking, horse riding, white water rafting and many more; all of which are sports common in Dordogne.
Travel insurance or EHIC/GHIC?
Anybody heading overseas is required to carry a European Health Insurance Card (EHIC) or if you're travelling from outside of Europe (including the UK since Brexit), then a Global Health Insurance Card (GHIC). These cards give access to reciprocal medical care when travelling in Europe (and to some extent Switzerland, Norway and Iceland). It is normally valid for up to five years and by having a card the country you are visiting will match the level of 'standard care' provided to citizens of that country should you require any medical treatment. (This 'standard care' may vary from traditional UK standards depending on where you are.) You may have to make a contribution to the cost of your care or medications as it may not cover everything that the NHS system in the UK would cover.
As great as it sounds however, the system is by no means offering you fool proof cover. It is important to understand that EHIC/GHIC entitles you to emergency medical treatment at state facilities in the event of an accident or illness. It should certainly NOT be viewed as a replacement for travel insurance. Many of the problems commonly faced by travellers such as flight cancellations or delays, loss of passports and/or bags and repatriation to home countries after medical emergencies are examples of situations that will not be covered by the card.
Procedures will differ depending on your travel insurance, but usually the medical excess on your policy will be waived if you use your EHIC/GHIC, which means it is always best to have both. As a rule of thumb, if you're seeking out-patient medical treatment you should pay any bills under £500, get receipts and then claim this back from your insurer. If you are admitted as an in-patient, you should call your insurer's medical emergency line as soon as possible so they can liaise with the hospital directly, while you concentrate on getting better.
The UK Department of Health also advises that the system does not cover you if getting medical treatment is the main purpose of your trip, and this rule also applies to most travel insurers. The Department of Health website lists the valid eligibility criteria for obtaining a card.
Essential insurance checklist
If you choose to travel without taking out travel insurance you can certainly be classified as a 'risk taker' – or 'foolish' as you are taking on a massive financial gamble should you have a serious accident, or you fell ill whilst abroad. If you have taken Dordogne insurance cover, make sure you read the policy document thoroughly, and look at any exclusions which might affect your ability to make a successful claim. If you are unsure of anything, ask your insurer directly to ensure you are covered.
For example, cover for your baggage and ski equipment varies enormously so if you are an aspiring Victoria Beckham and taking your finest Chanel skis in your Louis Vuitton luggage, make sure your limits are sufficient to replace any items damaged or stolen. You may find that some companies will offer 'new for old' cover for lost baggage or equipment, whilst the majority of others will deduct costs for wear and tear. Having reviewed a number of travel insurance providers we have compiled the following insurance checklist which covers some key areas you may wish to think about when purchasing your travel insurance (this list is not exhaustive):
Is your destination covered? - You will need to select the country you are travelling to, or the destination group when getting a quote (E.g. Europe excluding Spain). The price of your cover will differ depending on your destination, as claims outside of Europe can be more expensive.
What activities will you be doing on your holiday?! - If you are an adrenaline junkie or you're simply going on a business trip with your annual multi-trip policy you should still check your policy limitations. Activities such as skiing (on and off-piste), snowboarding (on and off-piste), water-skiing, mountain biking, mountain trekking or paragliding are not always automatically covered and may require an additional premiums being paid if the insurers are willing to cover the activity. Moreover, you may find stipulations on how these activities should be undertaken – i.e. Skiing off-piste may only be covered providing you are with a fully trained mountain guide and certain avalanche warnings have been adhered to
How long are you going on holiday for? - Policies can be purchased on a single trip basis or as an annual multi-trip policy however many policies may limit the trip duration (some even the number of trips you can take in a year) so it is always best to check your trip duration. Usually Single Trip policies can cover trips anywhere from three days upwards, or over a year of continuous travel with Single Trip Long Stay policies. Multi Trip policies are slightly different, and will cover multiple trips taken in 12 month period. Some policies will offer unlimited trips throughout this time, but will limit the duration of each trip to anywhere from 30 to 90 days.
Have you disclosed all pre-existing medical conditions? - You must ensure you have declared any existing medical conditions to your insurer, otherwise you may find you're not covered. Most standard policies will not cover chronic or terminal illnesses, so you should research specialist policies such as Insurancewith.com. If you have to make a claim it is possible that insurance companies will contact your doctor for medical records.
Does the policy provide 24h emergency assistance? - Emergency situations can be frightening enough, without being in a foreign country with no-one who speaks your language. For peace of mind, make sure your insurer offers a 24 hour medical emergency service, which will be able to offer expert advice and assistance.
What are the financial limits on your holiday cover? As a minimum, you should ensure that your policy offers the following:
At least £2m medical expenses
£1m personal liability
£3,000 - £5,000 cancellation and curtailment costs
£1,500 baggage and £250 cash
Sufficient medical cover is invaluable as according to the AA, the cost of resort-based medical care has risen significantly in recent years.