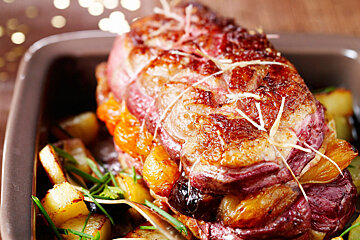 Local cuisine in Dordogne
Discover the top Dordogne local cuisine
Acknowledged as one of the most important food regions of France, cuisine in the Dordogne area is often based on duck or goose. Rich cuisine with nuts and truffles, coupled with fine local wines...sounds like a recipe for a wonderful gastronomic holiday.
Canelé - Small domed cakes made from batter & caramelised
Canelés are tiny round cakes soaked in rum which used to be made by the nuns of the convent of Annonciades in Bordeaux. They have a soft custard centre and a crispy sweet finish.
They are usually eaten for breakfast, dessert or as a snack. The name is derived from the fluted copper mould in which it is made. Often coming hand in hand with the famous French macaroon which hail from Saint Emilion, canelés are said to originate from the wine industry... Legend has it that the recipe was created because of the left-over egg yokes from wine production, this was during a time when the whites of the eggs were used to filter the wine naturally.
Popular all across France , you should be able to find canelés in most bakeries, patisseries and supermarkets, but nothing beats the real thing and for this you have to be in the city of Bordeaux.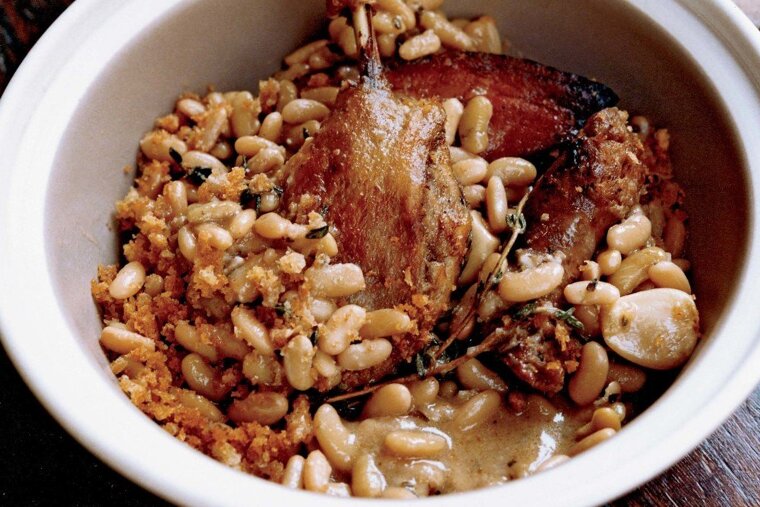 Cassoulet - a rich, slow-cooked casserole from the Occitan region
This stew-like dish originates in the south-west of France and is made with white beans, confit of duck or goose, regional sausages and meat, a filling hearty dish.
This winter warmer is named after the pot that is cooked in. Slow-cooked in a deep earthenware pot, similar in some ways to the Moroccan tagine, the Cassoulet traditionally contains pork sausages, goose, duck (sometimes replaced with partridge), pork skin and white beans. This is dish has also become a popular 'meal in a tin' and can be readily purchased in supermarkets and grocery stores.
Traditionally a peasant meal, the ingredients are generally cooked together, however 'haute cuisine' versions today may be done slightly differently to enhance flavours of one item or another.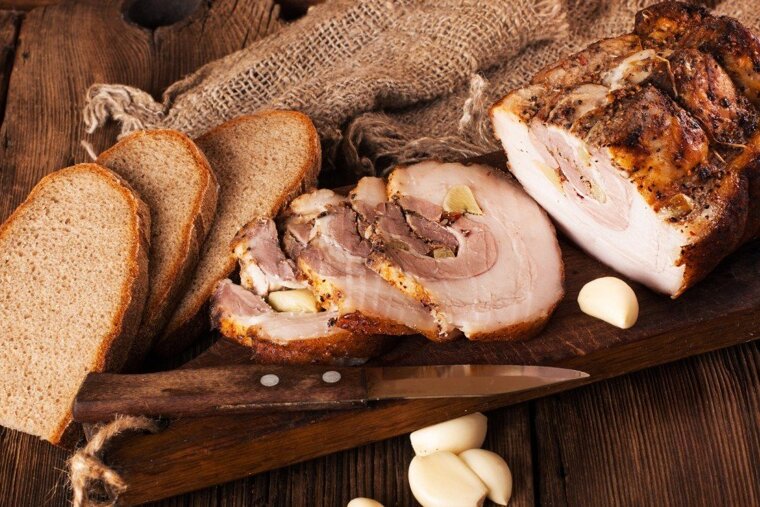 Enchaud Périgourdin - Pork dish that is traditionally served cold
Pork loin, pre-spiked with garlic and thyme, and slow roasted in a small amount of stock. Carrots and parsnips are added halfway through the cooking. This wonderful dish is also great served cold.
Often produced according to a traditional family recipe and preserved in goose or duck fat. For an authentic dish you should also use a 'cul noir limousin' pig, a particular breed of pig found in the Aquitaine region. After nearly disappearing in the 1970s & 80s, the numbers of this breed have since increased thanks to a few passionate breeders who raise their pigs according to ancestral traditions.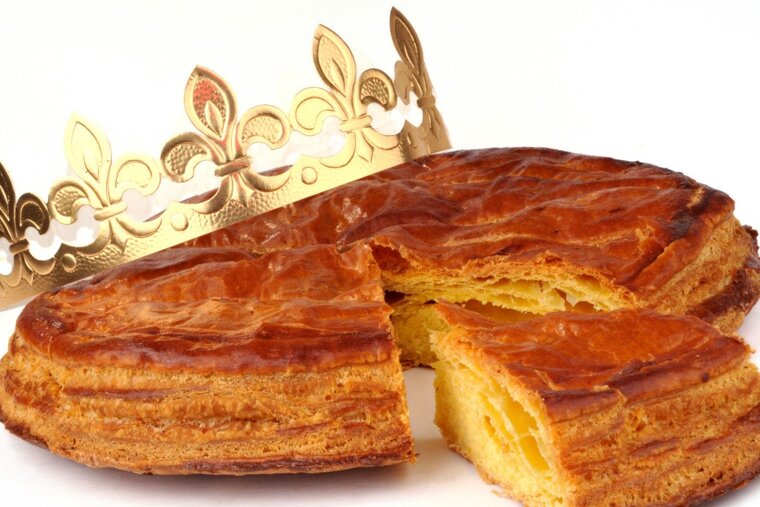 Gateau des Rois - The Cake of Kings!
January - a time for cake and celebrations... If you pass your local Dordogne bakery in early January you will no doubt find a selection of glazed pastry cakes with golden paper crowns sitting on top of them... or even a selection of small charms to purchase at the counter.
This wonderful tradition dates back to the fourteenth century and is likely in some ways to be related to the Roman tradition dedicated to the god Saturn and celebrating the longer days after the winter solstice.
Across France during the 'Epiphany', the celebration of the Magi (or Kings) visiting the new baby Jesus, which takes place on the 6th of January, cakes are eaten which are known as 'Gâteau des Rois' or Cake of Kings. Traditionally the cakes are made from a brioche and covered with candied fruit and sugar although this is not always the case. They do however all contain a bean or a charm of some kind and whoever eats the piece with the bean or charm will be crowned the next king! This is not always a privilege as it can mean that you have to buy the next cake!!
Whatever your thoughts and traditions, each region and family will no doubt have their own take on the celebrations. But with one thing in common, this is a time to celebrate with friends and family and eat some cake! I won't be complaining about that! I will be sampling as many as I can find in the hopes that I can receive a charm and my crown :-)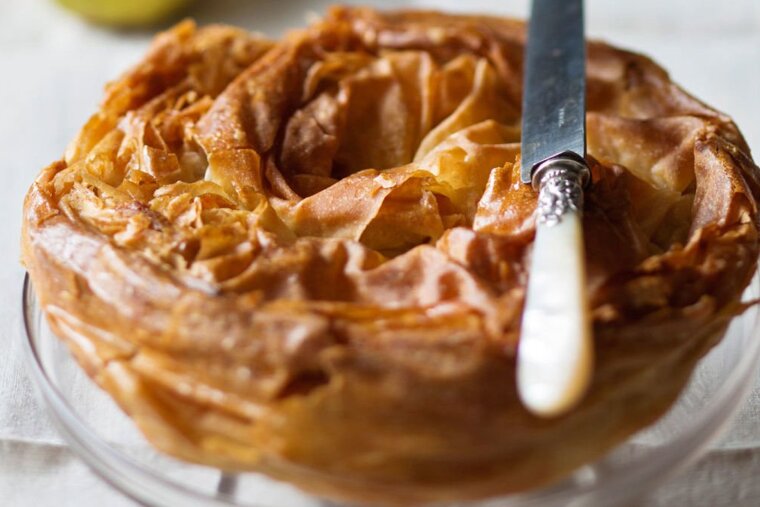 Pastis du Quercy - A sweet treat from the farming areas of the south-west & Quercy
This regional dessert is an apple tart made with puff or filo pastry, and then doused in alcohol. The pastry is wonderfully light and crispy and it is a great way to finish off a meal.
Traditionally from the south-west of France and the Quercy area in particular, this sweet treat is made by made by women in agricultural communities and grannies for special occasions, religious and family celebrations. The trick is in the pastry and the recipes that tend to be handed down through the generations, although some would say that the secret to this dish is in the 'syrup'. Known in some places as the 'holy water' it will undoubtedly contain some kind of alcohol - normally plum brandy but Armagnac and rum are also used.
Similar to the Turkish baklava or the Austrian strudel, the pastis takes time to master and should involve only the best pastry, which in this case must be worked in a specific way with an impressive skill that is similar to an art form.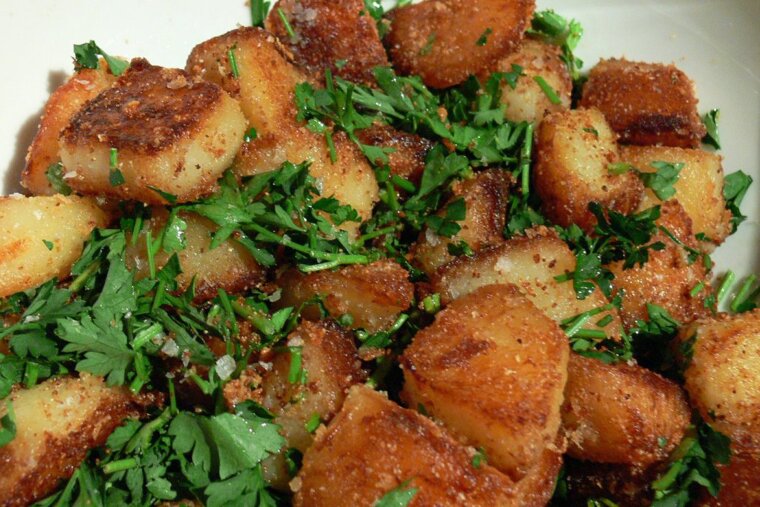 Pommes Sarladais - French style garlic potatoes that come on every menu in the Dordogne
Originating in Sarlat, this potato dish is common on the menu of every regional restaurant in the Dordogne and Lot. Potatoes are fried in goose or duck fat, garlic and tossed with parsley.
In this area where duck and goose farming is so common, and the fat from those birds so ubiquitous in cookery, this preparation of potatoes comes as naturally as breathing to the local residents. It is an intense and garlicky recipe but one that you will not regret trying in any restaurant or even attempting to make at home...worth every second of effort!
Sautee par-boiled potatoes in generous amounts of duck or goose fat util they are golden and crispy on the outside and you can't go far wrong. But adding in the freshly crushed garlic and chopped fresh parsley at the end will finish it of nicely. Often served with a duck confit or roast chicken it is the ideal accompaniment.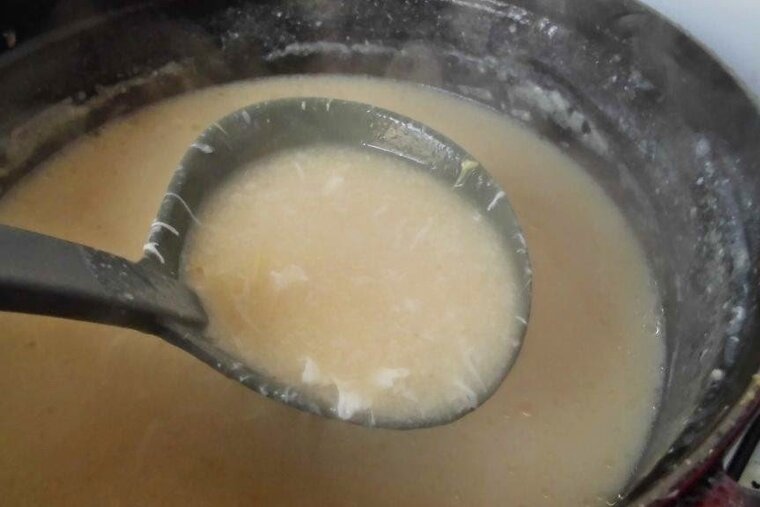 Tourin - A smooth French garlic soup from the Perigord region
This regional speciality of the Périgord is a soup made with garlic and stock to which egg whites and yolks are added (separately) to thicken it. It is usually served with large hunks of bread.
Sometimes known as the poor man's soup, the people of the Périgord tend to use garlic fresh from their own gardens for this simple dish. Traditionally made using just garlic, a little flour and water, and eggs when they were available, the soup was eaten with stale bread that was left to soak in it. Today the recipe often includes onions, duck fat and some wine vinegar, but remains true to the original with garlic, flour and eggs being the main ingredients.
If you want to sample this dish in its truest form then you should make a 'chabrol' or chabrot'. This is when you pour a little red wine into your soup bowl, just before finishing the soup...delicious!
More inspiration...
Surely there can only be one place to head for more inspiration after reading this page.... check out our local Restaurants suggestions!