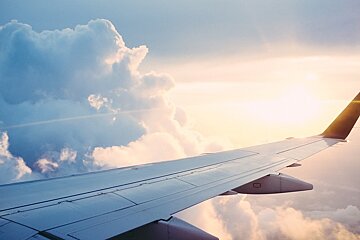 How to get to Dordogne
Discover the top ways to get to Dordogne
A popular travel destination, the Dordogne region has a lot to offer. It also covers a rather large area and you might want to consider how you're going to get to France, Dordogne and all those special towns & villages that your want to visit.
Easiest way to get to Dordogne
As the Dordogne is one of the largest, most picturesque and rural departments in France it will come as no surprise that once you are there, having your own car is key. Public transport does not easily link the most popular towns so travel without your own car can be time-consuming and inconvenient.
That in mind, the best way of getting to the Dordogne (if you are not within driving distance) is to fly and then hire a car. There are two airports in the Dordogne region, Bergerac and Brive, as well as Bordeaux International airport to the west of the Dordogne.
Flying to Dordogne
There are three airports suitable for flying to Dordogne, Bergerac, Brive and Bordeaux-Merignac. The following drive times from the airports to the main tourist hubs are approximate and can be affected by heavy traffic during peak holiday times:
Périgueux (Capital of the Dordogne region)

Bergerac
Brive
Bordeaux
0h50
1h
1h35
52km - map
96km - map
144km - map
Sarlat-la-Caneda (Popular town in the Perigord Noir)

Brive
Bergerac
Bordeaux
0h50
1h20
2h35
41km - map
74km - map
190km - map
Bergerac (Largest town on the Dordogne river)

Bergerac
Bordeaux
Brive
0h15
1h30
1h30
6km - map
126km - map
132km - map
The best-known airport for Dordogne is Bergerac Dordogne Perigord Airport. Situated in the west of the Dordogne region, just over 100km from Bordeaux. It offers travellers good connections with the UK as well as regular flights from Nice, Brussels and Amsterdam. This is the best airport to fly into if you want to enjoy the wine regions of western Dordogne, including Saint Emilion, Bergerac and Monbazillac.
Brive Airport in the north east of the region is a relatively new and modern small airport, serviced by just two airlines. It has less frequent flights but is well connected with Paris throughout the week and throughout the year. This airport offers good access to the east of Dordogne and the Vereze valley and the popular towns of Beaulieu-sur-Dordogne, Rocamadour, Martel and the infamous Lascaux caves in Montignac .
Bordeaux-Mérignac Airport is situated on the west side of Bordeaux city and therefore to the west of the Dordogne region. It allows good access to both the city of Bordeaux and the Gironde as well as the Dordogne region and is serviced by a number of the major airlines. This wide choice of airlines means that prices are often competitive. Have a look at our Flight Finder to help your planning. As always, prices will be at a premium during the school holidays and at weekends. As a popular destination throughout the year, you will find that most routes are available all year round, although the number of weekly flights may be reduced in autumn and spring with particular airlines.
For onward travel from the airport, transfers or shuttle services are convenient and car hire is a widely available, allowing you to drive directly to your accommodation. Some of the luxury hotels offer an airport pick-up service so it is best to enquire about this directly before you book a car.
Getting from the airport to Dordogne
Airport transfers or shuttle services are a convenient option for onward travel to your destination. Companies generally offer two types of service private and shared transfers.
Private transfers are exclusively for you - once you arrive at the airport they will take you directly to your accommodation. Some hotels offer a private airport pick-up service, so don't forget to enquire about this directly before you travel.
Shared transfers are usually more cost-effective, especially for individuals and couples, the trade-off being you may need to wait for other passengers and the possibility of being dropped-off at a more central location.
You should always book transfers in advance.
Buses to Dordogne
Onward travel by bus from Brive or Bergerac is possible but routes are limited and infrequent.
Train to Dordogne
The Dordogne is reasonably accessible by high-speed train. The main stations are Périgueux, Bergerac, Sarlat and Brive. These are all accessible from Bordeaux, Paris, Lyon and Toulouse. Once you reach the Dordogne, onward travel throughout the region is difficult. The local train line that runs the length of the Dordogne does not stop at each town and you will find the trains infrequent.
Bordeaux to Périgueux by train takes around 1 hour 15 minutes. Toulouse to Périgueux is around 3 hours, and Lyon to Périgueux is a 5 hour journey. If you wish to travel from Paris to Périgueux then you must take the train to Angoulême and hire a car for the latter part of your journey.
Once in the Dordogne, the local TER trains run between Bordeaux, Libourne, St Emilion, Bergerac, Le Buisson and Sarlat.
Driving to Dordogne
The main advantage to having a car is flexibility and driving in France can be a pleasure. Being able to drive yourself around the area is far more comfortable and convenient, allowing you to take day trips, visit other resorts, towns and villages.
You should bear in mind that you will probably be using the main toll roads as you drive through France and this may take much longer if you chose to travel on a busy Saturday during the summer. Once you reach the Dordogne the roads become more rural and, although they are in good condition, they do tend to be rather windy, with the risk of being caught behind a tractor or a group of enthusiastic cyclists. Some of the attractions are directly by the road side so you also need to be wary or people stopping quickly, pulling over and signally way too late...this is likely to be you at some point!
If you wish to bring your car with you from the UK, then you will probably take a ferry to the north coast of France where the onward drive is around 6 hours to Périgueux. It might be worth considering arriving at a ferry port closer to the west of France, such as Caen or Saint Malo. The closest ferry port to the Dordogne is actually Bilbao in Spain, with a driving time of just 4 hours 30 minutes to Bergerac or Périgueux. The crossing time is much longer though - between 24 and 32 hours from the UK.
Bringing your skis, snowboard or bike to Dordogne
If you are planning to bring your own sports equipment, perhaps a road bike, or a set of golf clubs, then it's well worth checking the details in advance. Each airline, train and transfer company will have their own individual policy terms and conditions depending on the type of sporting equipment you are transporting. Here's a snapshot of the different transport options and a guide to their restrictions:
Some airlines charge for taking equipment and this can also apply to bikes, golf clubs, watersports equipment - so check before you book. Make sure you pack your gear well, as it's not unusual for there to be a few bumps and bruises along the way, if you don't! The same applies for your bike, whether that be a mountain bike, road bike or touring bike...pack it well and ensure it falls within the packaging guidelines specified by the carrier. For more information see our Cycling and Mountain Biking Guides.
Airport Transfer companies always need to know exactly what you're bringing, so that they have sufficient capacity in the vehicle.
Travelling by train can involve several changes, depending on your route, and almost certainly lugging your gear up and down a few sets of stairs or escalators. Eurostar has an additional charge of around £30 for their registered luggage service for these types of equipment. Check before you travel.