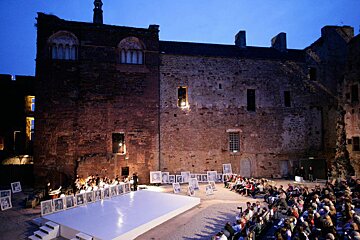 Festival de Saint-Céré
Summer programme of opera, dance, and classical music
This festival of opera, theatre, dance and classical music is held in Saint-Céré over three weeks in July and August.
Concerts, recitals and performances take place in chateaux, gardens, parks, abbeys and theatres across the upper Dordogne valley. The association of local heritage together with the festival offer performances in unique settings while highlighting the monuments and historical buildings of the town. It is a big part of the summer calendar.
This year will be no different with a programme filled with familiar works and forgotten masterpieces, from chamber music to lyrical art, film-concerts and family shows.
By creating an OFF festival (free festival) musicians and artists now go into the smaller villages such as Loubressac and Sousceyrac to present their instruments, give concerts and answer questions from festival-goers.
Tickets can be purchase online in advance, by phone, by mail, or from the venues in Saint-Céré or Figeac.
Venue
Various venues including Château de Castelnau-Bretenoux, Theatre de l'Usine, Château de Montal (Saint-Jean-Lespinasse), plus a number of churches.
Location