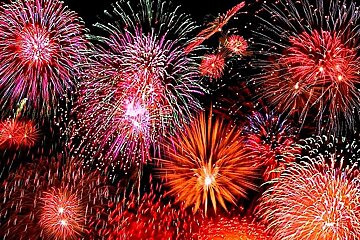 Bastille Day, Dordogne
Bastille Day fireworks to celebrate the French National Day
Bastille Day is celebrated across the whole of France with a bang...well, several in fact, fireworks always feature heavily.
And the residents of Dordogne celebrate this national holiday with as much enthusiasm as the rest of the country. Various activities are held across the city on the 14th, in memory of the storming of the Bastille on the same date in 1789. Traditionally the fireworks display normally starts off between 22:00 and 23:00.
Celebrations are also generally free of charge.