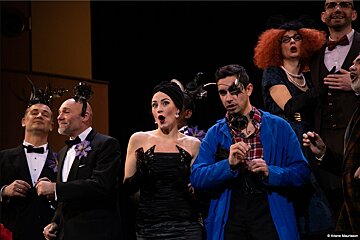 Été Musical en Bergerac
Dance and music festival in and around Bergerac
This summer music festival features ballet, dance, classical and jazz music performances. They are held at various prestigious and historic locations in the Périgord Pourpre region.
Each summer around 20 shows are held in the various venues of Périgord for one of the most original festivals of the great southwest. Musical genres include classical music (orchestras, choirs, chamber music, soloists), traditional music, jazz, variety, ballets, theatre and cinema.
Every year the founders endeavour to bring all kinds of shows to the programme, inviting well respected artists to perform.
Where and when
Various locations throughout the Périgord region including the Château de Biron, the English bastide town of Monpazier, the Abbey of Saint Avit Sénieur, the Château de Marsalès and the Château Saint Germain.
Venues include the wonderful abbey in Cadouin, founded in 1115, now a UNESCO World Heritage site, the concerts take place in the abbey church or the adjoining cloister, which date from the 15th and 16th centuries. Also the English country house of Monpazier, founded in 1284 by Edward I, King of England, certainly remains the best example of military architecture of the Hundred Years War.
History
Marc Chisson, a professional musician, and his wife Isabelle founded the festival in 1988 and with their knowledge and understanding of the musical and cultural world endeavoured from the beginning to be open to all artistic genres. The diversity of the programme goes beyond classical music, and includes jazz, traditional music, dance and theatre that knows 'no borders, neither geographical nor intellectual'.
The Association ABC Musique (Abbeys, Bastides and Châteaux en Musique), established over 30 years ago, is the organiser of the festival.
Location