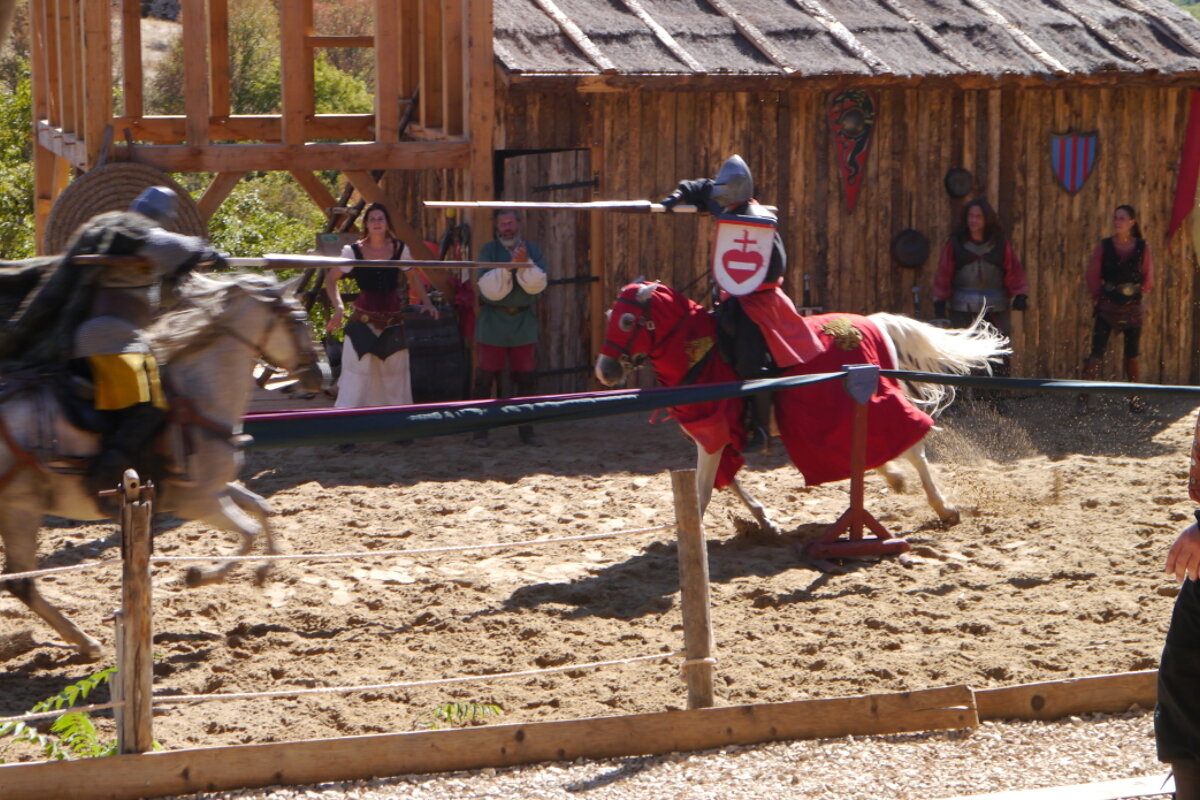 Durandal Vs Excalibur Equestrian Show, Rocamadour
Historical drama told with amazing equestrian acrobatics
Featured in: Shows
Updated
An hour long horse show and theatre production that is based on the rivalry between the English and the French with lively, action-packed fun.
The performance includes a story line, similar to that of Excalibur in English history, and utilises medieval knights on horseback and swashbuckling antics to entertain the crowd. The horses are the stars of the show as they display their abilities and skills in the arena. The acrobats that ride them are equally as talented and add a special flare to the show.
Read our own reporter review of the show here.
Who should go
This is a great family event but enjoyed equally by people of all ages. The show is in French but the jokes and slap-stick humour are easily understandable for English speakers.
Venue
An open-air theatre behind the Chateau in Rocamadour
Storyline
Several centuries after the heroic death of Roland de Roncevaux, all the village of Gromadour is getting ready, as it should, to commemorate this huge event in their history. Included in the celebratory programme: mounted games and acrobatics, a big tournament and above all a feast for everyone!!
But no-one counts on the arrival of a spoilsport with a cunning glint in his eye and a strong foreign accent, who dares to suggest that Durandal, the famous sword embedded in the cliff, is a fraud, the truth being actually it's name is Excalibur...
Performances
The performances take place throughout the summer months of June to September and are more frequent in July and August. Times and dates may vary each year so please check in advance to avoid disappointment.
June (from 12th to 28th): Sunday, Monday & Tuesday at 15:00
July (from 10th to 31st): Sunday, Monday, Tuesday, Wednesday & Thursday at 15:00 and again at 17:00
August (from 1st to 31st): Sunday, Monday, Tuesday, Wednesday, Thursday & saturday at 15:00 and again at 17:00
September (from 4th to 27th): Sunday, Monday & Tuesday at 15:00
Main venues
This event takes place in an outdoor theatre, a small amphitheatre, that is set back behind the chateau of Rocamadour at the top of this historical city.
How to get passes
You can buy tickets at the desk when you arrive.
Contact
Address
68 bis rue Lazare Carnot Charlette sur Loing
45120
Location
Rocamadour, Dordogne