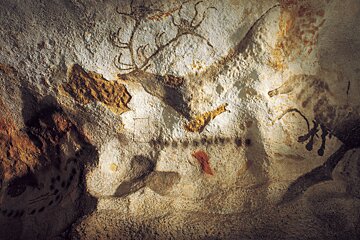 About the Perigord Noir Region
The south eastern part of the Dordogne, the Vezere Valley & Les Eyzies
Contrary to popular belief the area is in fact not named after the wonderful delicacy, the black truffle! Instead it is named Perigord Noir due to the high concentration of very dark oak trees.
As with much of the rest of the Dordogne, the Perigord Noir area is filled with famous chateaux, market towns, ancient villages and some of the most popular tourist destinations in France. The town of Sarlat is known as the 'medieval capital of the Dordogne' and is certainly one of the most charming old walled towns in France. Situated in the heart of the the Perigord Noir Sarlat is undoubtably one of the highlights of a trip here, however the surrounding towns of Belves, Beynac, Domme, and Montignac are also spectacular destinations.
In the south eastern part of the department, Le Périgord Noir joins to the International Centre of Prehistory in the Vézère Valley. The Vézère contains some of the richest European Prehistoric sites, including five that are classified by UNESCO as World Heritage Sites. Lascaux is possibly the best known of these 'caves', but you should also take the chance to visit Font de Gaume and Cap Blanc. The town of Eyzies may have rightly taken its place as world capital of prehistory partly due to the significant number of sites it hosts, alongside the national museum and its interpretive centre. A little less touristy than the Dordogne valley, the Vézère Valley offers peace and tranquillity. It is ideal for family outings, walks and outdoor activities. The Dordogne river continues its path through this valley, between the majestic limestone cliffs and green oak forests.
Location