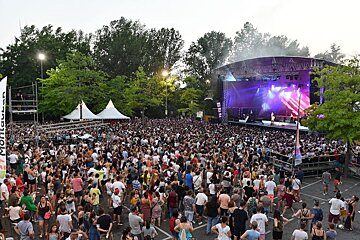 Montauban en Scenes (formerly Jazz à Montauban)
Jazz festival with international and local artists
In the Jardin des Plantes in Montauban, this jazz festival celebrates French and international music with a number of concerts over a long weekend. Look out for the dinner and tapas concerts.
The festival has 30-year history and has adapted to the times, trying to accompany the changes in the jazz music scene.
Check the website for full programme and how to buy tickets.
Venue
The Botanical Garden (Les Jardins des Plantes) in Montauban.
History
Hugues Panassié was a controversial French jazz critic and producer, who admired the early forms of jazz known as the 'hot' style played by the likes of Louis Armstrong in the 1930s. In 1935 he co-created the Hot Club de France's "association of jazz lovers", and his traditionalist stance led to numerous disagreements with modernists of the genre. In the early 40's he moved to Montauban, where he hosted many French and foreign jazz musicians and earned the nickname "the pope of jazz". Years passed and the legacy to jazz left by Hugues Panassié after his death in 1974 is considerable.
In 1982, to celebrate the 50th anniversary of the Hot Club de France, Madeleine Gautier, secretary of the association together with Etienne (Panassié's son), created the Montauban Jazz Festival. Over the years, the festival has grown and now extends to other towns in the department.
Location