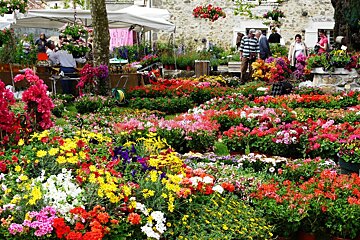 Les Floralies, Saint-Jean-de-Côle
Flower festival that attracts visitors from all over the world
Early in May, the village of Saint-Jean-de-Côle celebrates with a huge flower festival. Attracting thousands of visitors, the streets and pavements are transformed into multi-coloured floral delights and the castle is decorated in that year's floral theme.
For the past 30 years,the town has-been organising this great floral weekend, which also includes a market with works of art, crafts, local products, new floral varieties, unusual plants and garden decorations. Over 100 exhibitors and more than 10,000 visitors come every year to share their passion for flowers.
During the festival, the village entirely covered by flowers, and you'll quickly see why It has the reputation of the Most Beautiful Village in France. A delight for both sight and smell.
Where and when
Annually on the weekend closest to the 8th May in the town of Saint-Jean-de-Côle.
History
Originally, the event was organized in 1982 by the Tourist Office of Saint-Jean de Côle, led by a team of volunteers in order to promote and beautify the village.
Location