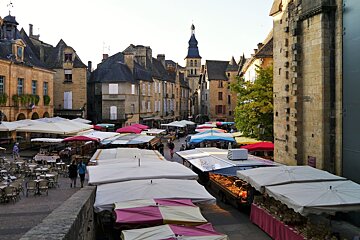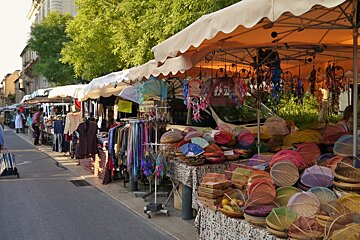 Sarlat Market, Sarlat-la-Caneda
One of the busiest markets in the region
One of the biggest weekly markets in the Dordogne region is held in Sarlat on Saturday where all the traditional regional products can be bought.
It is held in Place de la Liberté in this wonderful medieval town and its produce depends on the season but expect truffles, duck, foie gras, mushrooms and nuts. The Wednesday market is markedly smaller with less stalls and more local produce and local buyers. The Saturday market however, draws crowds from far and wide. Probably the most popular market in the region, it is certainly worth a visit to stroll through, taste some samples and buy some fresh local produce.
Top Tip - get there early to avoid parking issues and get the best of produce for sale. You may find yourself parking some distance away and walking into the centre of town.
Where and when
Wednesday Food Market: 08:00 to 13:00 in Place de la Liberté
Saturday: in the city centre – all products from 08.30 to 18:00
Saturday morning: Place de la Liberté – food market from 08.30 to 13:00
What to see
The food market fills quickly with locals, greeting one another, buying their fresh veg and the vendors chattering and having their breakfast together. They offer a good selection of garlic, foie gras, other duck and goose products, local cheeses, breads, oils, walnuts and of course delicious truffles. It'll take a good few hours to get around the full market on a Saturday but take your time - this is certainly one of the biggest and most popular in the area and it's easy to see why. Aside from the food you can find anything from wooden medieval toys to clothing, leather products (and donkey skin...) to fabric and households items, souvenirs and local art. The choice is yours!
Location