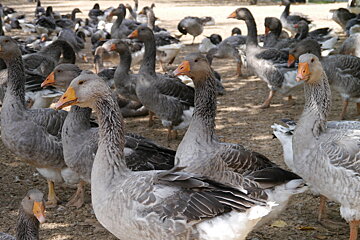 Sarlat en Périgord Fest'oie (Goose Festival), Sarlat-la-Caneda
Hosted annually at the beginning of March
Every year Sarlat celebrates the bird which has become its mascot and invites us to the celebrations, whilst noisy gaggles of geese honk across the medieval town.
There are stalls where you can taste the food on offer, each more tempting than the other; "la soupe de carcasse" (carcass soup), a truly local traditional dish, is on offer to warm you up; there's a traditional music band for ambience, and workshops and demonstrations for young and old alike.
It takes place in the presence of the farmers who work to maintain the quality of this authentic product and they take great pleasure in explaining their skills to you.
On the Saturday evening the locals gather at La Dodeg'oie on Place de la Liberté, where an immense table is laid out and everyone tucks into a plate of Fest'Oie food, including Sarlat-style potatoes and a glass of Bergerac wine. On the Sunday at midday, head to the Sarlat cultural centre to join another banquet, this time 15 different dishes created by chefs, including all the foie gras you can eat...and more marching bands.
You must remember to reserve in advance, as this event is hugely popular and sells out.
Location