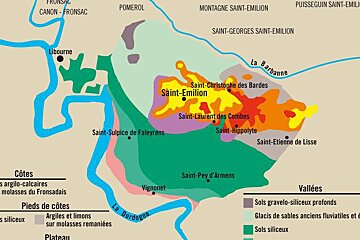 © vins-saint-emilion.com/
Saint-Emilion
Merlot dominated region on the Right Bank
The pretty region of St Emilion has been producing wine for centuries, and the variety of terrain here means wine of great diversity is produced here.
There is a mix of soil types, from limestone hills leading down to sandy soils by the Dordogne river. It is said that the finer estates are the ones perched on the hilltops. The limestone soils allow the vines to drain well, but keep moist conditions during dry years. The minerality of the soil finds it's way into the vines and the resulting wine. The wine made in limestone areas tend to be richer than those produced in sandy soils.
Merlot is the dominant grape, and is blended with Cabernet Franc primarily, with additions of Cabernet Sauvignon, Malbec and Petit Verdot. Classic Merlot flavours such as black fruits, plums and liquorice. Cabernet Franc offers touches of spice, floral aromas and tannins.
The appellation borders the are where Pomerol is produced. Pomerol differs fro St Emilion in that the soils are more gravelly which means Cabernet Franc and Cabernet Sauvignon can be grown to better effect.
This famous wine appellation was only formally classified in 1954 and was divided into two appellations: Premier Grand Cru Classe and Grand Cru Classe. Note that wines labelled Grand Cru are of a much lower quality. The appellation evaluates its producers positions within the subdivisions every 10 years, the last one being in 2012.
The estates in St Emilion tend to be smaller than those of Medoc and Graves, which means they can experiment with new techniques more easily. This, along with the soil diversity in the region, creates a huge range of styles of wine. So no matter what your taste in wine, you are sure to find something that suits in St Emilion.
Notable vineyards
Chateau Cheval Blanc is the most famous estate in St Emilion, if not in Bordeaux itself. It produces wines rich in Cabernet Franc which need at least 10 years ageing. Visits are for professionals only.
One of the other Premier Grand Cru Classe estates that is open for visits is Chateau Pavie. It has a larger portion of Cabernet Sauvignon than other St Emilion wines. The result is an elegant, rich yet fruity wine. You can visit throughout the year from Monday to Friday by appointment.
Chateau Beau-Sejour Becot has been producing top quality wines (Premier Grand Cru Classe) for many years. The wine is definitely one for laying down, and drinking after 10 years or more. The vineyard is open for visits by appointment.
Chateau Figeac (Premier Grand Cru Classe) tends to use more equal amounts of Merlot, Cabernet Franc and Cabernet Sauvignon, creating a unique style of St Emilion wine. Visits are by appointment and can be made online.
Chateau Troplong Mondot (Premier Grand Cru Classe) produces rich wines full of blackberries, and with complex tannins. You can visit by reservation, and the estate is open from Monday to Friday. The estate also has a highly regarded restaurant.
Chateau la Gaffeliere (Premier Grand Cru Classe) is open from May to November (Wednesday to Sunday) for visits by appointment and you can book online.
Chateau Coutet has been in the in same family for over 300 years and is a lovely vineyard to visit. Their Grand Cru red wine has a touch more Malbec than other St Emilion wines. Tours are available Monday to Saturday, please call in advance.
Chateau Guadet is in the heart of St Emilion and sits within the Grand Cru Classe. Their red wine is rich in balck fruits in a medium bodies red wine. The estate is open throughout the year by appointment from 10am to 7pm.
Chateau Laniote is a Grand Cru Classe and has rave reviews for their tours and tastings. Their wine is rich and concentrated, resulting in a slightly sweet finish. Make an appointment before visiting.
Chateau La Dominique (Grand Cru Classe) produces a fruity wine with a touch of spice. The estate is open throughout the year for tours and you can enjoy panoramic views on the vineyards from their terrace.
Location