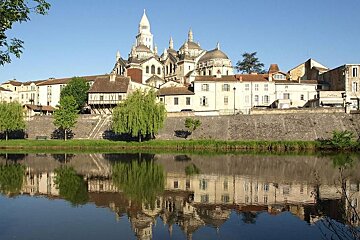 About the Perigord Blanc & Vert Regions (North-East Dordogne)
Rich in heritage & culture, they make up the northern part of Dordogne
Perigord Blanc is named after the whiteness of the stone in region, famed for being a popular medium amongst sculptors. Whilst the Perigord Vert is filled with lush vegetation, many rivers and plenty of outdoor activities.
Perigord Blanc is also home to the capital of the department, Périgueux, the City of Art and History and the heart of Dordogne. In a land filled with charming villages, market towns, beautiful chateaux, art and tradition, you will find not only the bustling markets that you would expect of the the region but a wonderful variety of gastronomic specialities. Foie gras and duck confit to name but a few.
A bit more off the beaten track than the more 'central' areas of Dordogne, you won't find so many of the main sights and attractions, but rather a laid-back pace of life where you can wander through the towns and chateaux of the region and soak up the atmosphere.
Location